Have a question? Take a look at our FAQs
Travel fees & What areas do we service?
---
The travel fee is determined based on mileage from zip code 85353; $2 per mile. We service Phoenix & the surrounding area up to 40 miles from the west valley.
Approximate travel fee Map: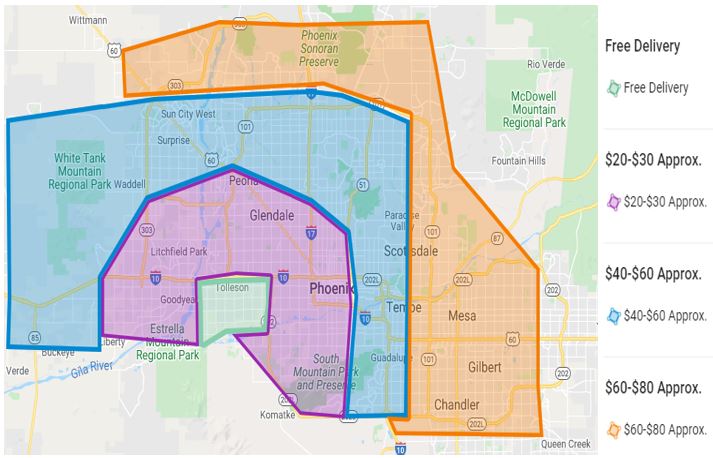 ---
How can I be sure your equipment is clean?
---
Because we are parents ourselves, we are diligent about the safety of our products. All equipment is thoroughly cleaned and sanitized before and after each use, including all of those small balls! We use eco-friendly and baby-safe disinfectant to maintain a safe and clean environment.
---
Can we setup in parks/outdoors?
---
Yes, we can set up anywhere! Area must be clean, flat and dry. If setting up in a park, please contact the park in advance to determine the requirements needed to set up. Some parks will require a certificate of insurance which we can provide, please be sure to include that in your booking request. There is a $25 fee for obtaining this required insurance certificate.
Play areas must be setup on clean, flat & dry locations. If your event will be outdoors, play areas must be shaded to help protect little ones from the Phoenix sun. If area is unshaded, equipment can get hot and may burn little ones. We offer tents as package add ons. Depending on package size, more than 1 tent will be needed.
Please be sure to clean walkway for delivery and play area space is clean and free of debris. We must be notified if play area will be on top of dirt, sand or rocks.
---
When is the final balance due? Is the security deposit refundable?
---
Final balance must be paid 7 days (1 week) before your event. Once you complete your booking reservation with a $50-$75 security deposit, you will receive a final invoice within 24 hours. The invoice will include the package cost, add-ons, and any travel fee if applicable.

The security deposit is refundable. Fees that may be deducted could be for deep cleaning, delivery area restrictions, and/or for missing/damaged equipment. If everything is in good condition at pick up, the security deposit is refunded when all equipment is returned and inspected after your event.
---
What are the rules to follow for playing?
---
Play areas are for children 5 and under only. Adults must always stay and supervise. No food, drink or shoes are allowed in the play area. Safety rules are displayed on the play area and must be followed. By creating a booking reservation, you are agreeing to our rental terms and liability waiver.
Party Like A Toddler LLC. is not liable for any injures or damages. It is the renters responsibly to provide suitable adult supervision of the equipment and those using it, at all times. Please always consider the appropriate ratio of children on the equipment to the number of adult supervisors assisting them.
---
What is the latest timeframe for equipment pickup?
---
The latest equipment pickup timeframe is 7:00pm. After dark, it becomes difficult to pick-up, and load all equipment. If you need a later pickup, please contact us first to determine if we can accommodate your request.
---
What's included in the package price?
---
Packages include 4 hour rentals with full equipment unloading & assembly which can take up to an hour. After your event, we disassemble and pickup all equipment, clean and santize everything.
All play areas include mats enclosed by a gate to keep your little people safe. All packages have been thoughtfully created to supply different fun elements for all toddlers 5 & under.
Larger packages increase in price with the additional items needs to create the super fun play areas. Our rentals allow you to create priceless memories with your babies during their most special birthdays! Little ones grow SO fast, which is why we love to provide a different & unique experience! We love to see them Party Like a Toddlers!!!
---
Why is my date unavailable on the booking calendar?
---
Dates that are unavailable are greyed out on our booking calendar. We operate with limited availability and if the date you are interested in is not available, we truly are fully booked for that date. To be added to the cancellation list for a specific date, please contact us and include the date and time of your event, the area of town for your location and the package you would like.
---
---
Instagram:

@partylikeatoddler


Facebook:

Party Like A Toddler


5 Star Google Reviews:

Party Like A Toddler
Mobile Playground Benefits
Our playgrounds consist of fun toddler toys and soft foam structures​ set on top of padded mats providing a safe environment for young explorers!
Age appropriate playing allows babies & toddlers to exercise their creativity, dexterity, cognitive and physical strength!
Children LOVE the fun colors and perfect sized play structures! They also LOVE the stimulation and encouraged social interaction in the friendly enclosed toddler space.
You can customize your party package with our add-on services. We offer toddler table and chairs, tents, and photo backdrop rentals to name a few! Click for our add-on options.
We bring the fun to you!
Let us provide an amazing stress-free experience! Your little guest will be so delighted to have a fun space exclusively for them.
We take the time to clean each piece of our equipment using
eco-friendly and baby-safe disinfectant before and after each use to maintain a safe and clean environment.
Sanitation is a priority!
Party Like A Toddler LLC. is a family owned business based in Phoenix, Arizona. As a mother, I struggled with finding baby & toddler specific entertainment for my child's first birthday. All the ideas I found on online and through Pinterest were mostly focused on older children and adults entertainment instead of the special birthday child! I was in search of age appropriate, safe entertainment exclusively for small children.

Party Like A Toddler was inspired by soft play structures and toddler specific activities which provide much-needed entertainment AND skill-building activities appropriate for babies & toddlers! Let our mobile playgrounds bring the fun to your next gathering!